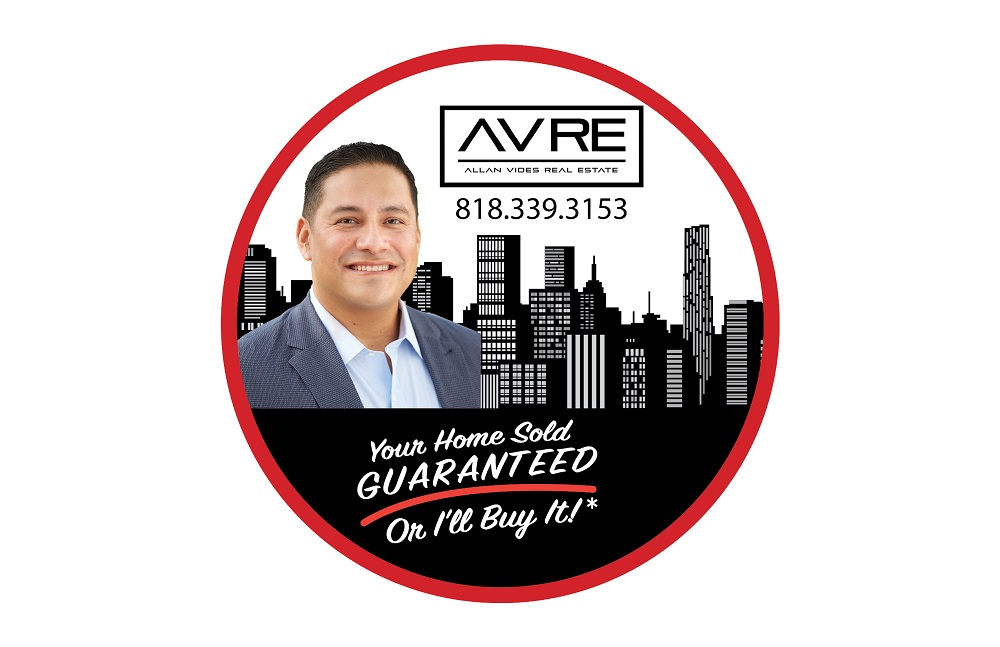 Your Home Sold Guaranteed or I'll Buy it!*
5 BIG REASONS TO CALL THE ALLAN VIDES TEAM AT 818-339-3153 TO SELL YOUR HOME!
1.) WE HAVE THE LOWEST RATES IN TOWN
Take advantage of a first year interest rate as low as 4.94%* Or use the Financing incentive for Closing Costs, Permanent Buydown, Temporary Buydown, Mortgage Insurance or Long-term Rate Lock!
2.) WE HAVE BUYERS IN WAITING
We have over 400 buyers in our database who have looked for a home in the area in the San Fernando Valley and Los Angeles areas. It is likely that the buyer for your home is already in our database - Your home may already be sold!
3.) YOUR HOME WILL SELL FOR $40,000 MORE
We sell our clients homes for average of 5% more money compared to the average area. On a $800,000, that's an extra $40,000 more in your pocket.
4.) YOUR HOME WILL SELL 10 TIMES FASTER
We sell our clients homes on average in only 11.45 days while the average area agent sells theirs in 22.8 days.
5.) YOUR HOME IS MORE LIKELY TO SELL
Not only do we sell our clients homes for more money and faster than average area agent, your home is more likely to sell. Our homes are 28% more likely to sell then the average agent.
YOUR HOME SOLD GUARANTEED OR I'LL BUY IT!* For more information on my exclusive Guaranteed Sale Program, order a free report by calling: 1-833-622-0690 ID 1072. Or call Allan Vides at 818-339-3153.
Jaime Yoon
9/9/2022 NEW on Google
Allan and his team were the greatest to work with! He is very knowledgeable and helped me step by step through the entire process of selling my condo. I was hesitant about selling and there were a few challenges but Allan was so helpful through it all. I feel we got the best offer and sold in 2 weeks! Would highly recommend Allan + team for all realty purposes!!
Melinda Labita
2 months ago on Google
Allan and his team are a well oiled machine. You will be supported through the entire process when selling your home. They are knowledgeable and will make you feel at ease at every stage. They know the importance of communication so you never feel "out of the loop". Hiring Allan to sell our home was one of the best decisions we made.
Jay Mappala
4 months ago on Google
The BEST experience I could hope for being a first time home buyer. Allan and team is professional and personal. They were always available to answer any questions, never pressured me to buy a house I didn't love, and made the process of purchasing a home an amazing experience. I give them my highest recommendation!
*The advertised 5% annual percentage rate is based on a 2/1 buy down when financing is
provided by preferred lender. The terms for this 2/1 buy down include 4.94% for year 1, 5.94% for year 2 and 6.94% (6.94% APR) for year 3 and beyond. This offer is valid on all eligible homes that close on or before 12/30/2022. Loan requires a 20% down payment. Borrowers must qualify at closing for loan programs,benefits, and/or incentives. Estimated taxes are based upon the most recent tax assessors info and are not guaranteed. Interest
rate and APR are as of November 1, 2022 and are subject to change. *Conditions Apply